Included in your ISODUFFLE™:
✓ Meal prep containers (various sizes)
✓ ISOBRICK® (ice pack)
✓ Removable padded shoulder strap
Dimensions: 17.6″ x 12.8″ x 7.4″
HOW IT WORKS
Our ISODUFFLE™ Solves The Most Common Meal Prep Problems.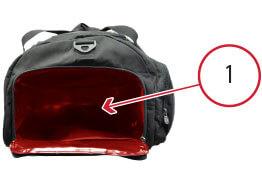 Multi-Purpose Storage
✓  One front pocket designed to keep your personal belongings safe.
✓  Top loading compartment with space for all your gym gear – sneakers, gym clothes, protein
✓  Multi-use side pocket fully insulated removable insert that will keep your meals cold & fresh for 12-16 hours OR remove the insert and take the opportunity to organize and separate your belongings.